Double Vision Mobile Bars' handmade portable bar is available in different sizes and is perfect for all kinds of venues from marquees to village halls. The larger bar is 12ft and when a smaller is required we can use just one section to create a 4ft bar.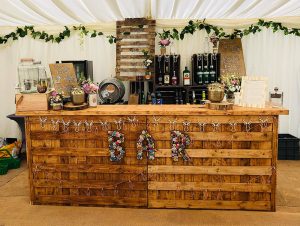 The new bar has been made to order in a more rustic way with the use of pallets, then stained with lights inside to really show it off.
After recent success and popularity we have added a small list of cocktails to all of our menu's when out doing events. The option is also there to book the cocktail bar for hen parties or casual events. The cocktail menu may change and requests of your favourites are more than welcome subject to availability.
There is a variety of options when booking a bar all of which are below to have a look at. If you have any questions or would like a quote for your event please don't hesitate to contact us via the form on the contact page.
Cash bar (Pay as you go)
This is where everyone at the event pays for their own drinks throughout the day/night.
Free bar
This is where all your guests are not charged throughout the whole event and we invoice all the drinks at the end.
Tab bar
With a tab bar you tell us a monetary limit and we serve until we reach that limit, after that the bar will run as a full paying bar and we will get you to settle the tab at the end, or you can set a time to which the bar becomes a paying bar.
Dry hire
Dry hire means that you can hire the bar on its own for your event to serve your drinks from as you wish, as well as the fee for hiring the bar there will be a deposit that will need putting down in case of any damages.
Deposit
With both the free bar and tab bar we request a deposit in advance, then after the event the tabs will be added up then either you pay the outstanding amount or we refund you the difference.
Cancellation Fee
Please note that once a confirmation e-mail or letter has been sent from us there will be a £150 cancellation charge.
Setup Fee
Please note there may be a set-up fee to cover costs of staff and travel, this will be calculated on consultation for your event.
Licences
At any event selling alcohol and/or providing entertainment needs a temporary events notice from the council. We sort all this out for you for the fee of £25 to be paid before the event, this fee is non-refundable. We ask for a minimum of 3 weeks' notice to obtain the notice for the event.